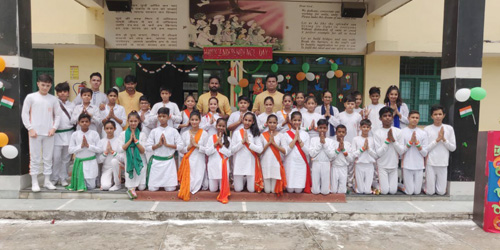 Independence Day Celebration
Freedom in the mind, Faith in the words,
Pride in our souls……
Let's salute the Nation…on..
Our Independence Day!
On August 15, 1947 India got freedom and finally broke from the shackles of slavery. The vision of 73rd Independence Day has once again given a small notion of refinement; it brings to the people. Our school, Sant Nirankari Public School, Tilak Nagar celebrated this auspicious day with great enthusiasm and pride. Every student contributed towards its preparation.
Mr. A.S.Gill, Chairman, Mrs. Rupinder Kaur, Manager and LMC members, Mr. Inder Mohan Singh, Mrs. Geeta Arora, Mrs. Anita Ajmani, and Mrs. Sheela Bhuteja were the invited dignitaries for this event. The celebration began with the traditional auspicious flag hoisting ceremony as a tribute to our motherland. HOS, Mrs. Leena Kapoor along with all the dignitaries hoisted the national flag. All the staff members and students saluted the flag. Then the cultural program began by a melodious shabad. Yuvraj Prasad of class X gave a short speech throwing light on the importance of Independence Day. A musical yoga was performed by the students of classes IV to VIII. It was followed by the reciting of poetic songs and poem. Further, it was continued by a mash up of patriotic songs. Prizes were also given to the brilliant students who had brought laurels to our school in the Zonals.
The program was coming to an end, but the enthusiasm in the school remained the same. Mr. A.S.Gill, Chairman the school delivered an inspirational speech and blessed us with his motivational thoughts. At last, HOS, Mrs. Leena Kapoor, gave a vote of thanks. She further informed us about the sacrifices made by our soldiers for the sake of our freedom and safety.