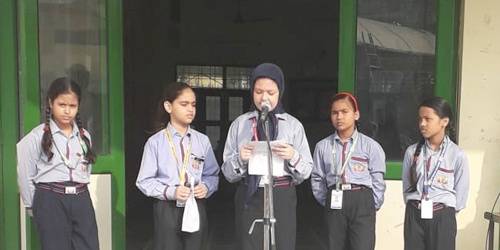 International Literacy Day
International Literacy Day is celebrated every year on 8th September worldwide. The Adult Education and Family Literacy Act (1998) define literacy as "an individual's ability to read, write and speak in English". International Literacy Day is an opportunity to highlight the improvements in world literacy rates and reflect on world's literacy challenges.
 An awareness program on International Literacy Day was conducted in Sant Nirankari Public School, Tilak Nagar on Sep. 9, 2019 during the morning assembly to make students aware about it. Faeza of class V gave a brief introduction about it. A short poem was recited by Anika of class V about the importance of education. The students took pledge for their commitment towards integrating literacy and skill development for a new India.