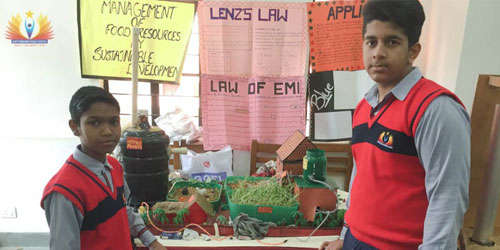 Science Exhibition
Science Exhibition at regional level was conducted by C.B.S.E on 17-19th January at Bhartiya Vidya Bhavan's Mehta Vidyalaya, KG Marg New Delhi-95.
The theme of the Exhibition was "Innovation for Sustainable Development " & as we know that Sustainable development means meeting the needs of present generation without compromising with future one's , the model prepared by us was on "Management of food Resources by Sustainable Development". Our model showcased that field should be managed in best possible way where we get pure organic farm products & profit should maximize.
Through this working model, we wanted to present that practitioners of sustainable agriculture seeks to integrate three main objectives into their work & i.e
a) Healthy Environment
b) Economic Profitability
c) Social & Economic Equity
There were 95 schools of Delhi region who participated in this Exhibition & our's  was the one who was selected in top 30 list of models.
This is a matter of prestige for us that we reached 2nd level of this  Regional Exhibition.
The Hard work done by our teachers & student's beared us a fruitful result & our model got praise & appreciation by C.B.S.E judges. Our model got the special introduction in this exhibition as our school was the only secondary school participating in this exhibition.
Jai of class VIII & Puneet of Class VII performed wonderfully well during science exhibition under the guidance of our learned teachers
a) Mr. Tapan Pathak
b) Miss Megha Sharma
It was a great learning Experience for our students and teachers.